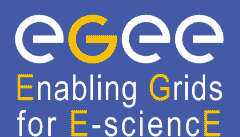 Business Associates
The EGEE Business Associate (EBA) programme provides an opportunity for companies to engage in technical work of joint interest to themselves and the project, such as coordinated technical developments, market surveys, exploitation strategies or more general transfer of know-how and services to industry. EBAs work with EGEE to make the distributed computing infrastructure of the Grid more user-friendly, effective and secure in an industrial context.
EGEE is now in a position that it has much to offer to business,
the EBA programme is an important component in our strategy
for the take-up of our work by business and industry, providing
a framework in which companies can confidently move ahead
with the adoption of Grid technologies.
-Bob Jones, EGEE Project Director
EGEE is currently working with eight companies, all experts in technical development and the Grid computing market: Avanade, Constellation Technologies, Excelian, GridwiseTech, Hitachi, Linalis, NICE and Platform Computing.
For more information on how each EBA is working with EGEE click here
If you would like to become and EGEE Business Associate click here