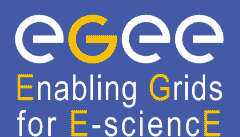 Business Forum
EGEE's Business Forum reaches out to private and public sector organisations that are looking at Grid for their innovation. The Forum interacts with current and new users, highlighting the benefits of Grid through user case studies and evaluating adoption potential across diverse vertical markets.
Improving business performance
Helping to get products to market faster
Enabling companies to do new things
"EGEE has embarked on a strategic process to target businesses, especially SMEs & start -ups as the main beneficiaries of Grid adoption, through running pilot business applications and providing opportunities for joint collaboration. EGEE is also now in a position to take a variety of solutions to the market through several commercial companies offering gLite-based solutions."
-Bob Jones, EGEE project director
The Business Forum leader, Trust-IT Services Ltd, engages with Business Forum Members, Business Associates, adopters from the Business Task Force and Grid adoption experts to pinpoint new opportunities for adoption and training, and understand how experts within and outside the project can assist in clearing any technical and non-technical hurdles.
Additionally, the Business Forum interacts closely with Technology Transfer Offices. Targeted activities include:
Promoting the concept of Knowledge Transfer, whereby knowledge generated by research can be applied to areas of life where it can make a difference.
Connecting scientists from EGEE with companies and researchers to foster opportunities for collaborative development and opportunities for Knowledge Transfer.
For specific special interests or to just find out more about the EGEE Business Forum contact Trust-IT
Register as a Business Forum Member here
Download the Business Forum Newsletters here