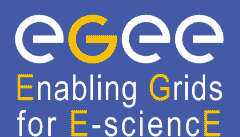 Best practices
Having collected the active EOPs and GAPs implemented by partners, the EGEE project has drawn up a list of best practices and recommendations which it will advertise to the partners and Related Projects.
The EGEE management strongly encourages gender equality and recommends EGEE partners to consider these aspects in their equal opportunity policy:
To define and adopt an equal opportunity policy adapted to the countries' legislation and practices;
To review the equal opportunity procedures periodically and perform regular statistical monitoring exercises;
To commit to the principles of equal opportunity in employment, in terms of gender and other minorities. This can be achieved through the inclusion of women in the selection boards, making equal opportunity obligations clear, etc.;
Implement transparency of information on the institute's personnel structure in terms of gender;
Provide information and material to increase general awareness (such as publishing policy and statistics in the form of leaflets, on the institute's web pages, inform the staff in charge of recruitment about their equal opportunity obligations, organise training courses on work-life balance subject, etc.);
Establish an equal opportunity complaints procedure against any kind of discrimination and harassment;
Adopt measures to improve the work-life balance for employees such as:

Consideration of alternative working arrangements (i.e: working from home, adoption of part-time work, working time flexibility) for a period of time, in agreement with the management
Adequate maternity and paternity leave arrangements
Provision of creche and/or kindergarten facilities
Investigation of gender-specific diseases to be possibly taken into account in the periodic medical checks;
Investigate representation of minorities as a whole in the institute and create EOP committees dedicated to the improvement of active EOP.