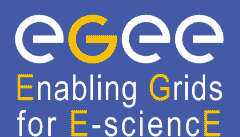 Multimedia
Webcast at Research Connection, Prague
Bob Jones, EGEE Project Director, introducing EGEE in the "Research Infrastructures - nurturing knowledge" session at Research Connection in May 2009.
Webcasts from the 4th EGEE User Forum
You can view the webcasts posted by reporters from GridTalk during the 4th EGEE User Forum/OGF25/OGF-Europe's 2nd International Event, 2-6 March 2009, Catania, Sicily, Italy.
View demo highlights filmed at the 4th EGEE User Forum.
Webcasts/virtual tours at EGEE08
As a new feature for EGEE08, EGEE teamed up with the GridTalk project to bring live news from the conference on "GridCast: blogging behind the scenes of Grid computing". You can still view EGEE'08 webcasts posted by Gridtalk reporter Corentin Chevalier during the conference.


The DVD "Creative Connections" saw a first version produced during summer 2007 and a second, shorter version, was delivered in early 2008. This joint dissemination video provides an introduction to four major projects the European Commission has funded to enhance Europe's research and education high-speed computer network in a dynamic DVD (in both short and long versions). The short version is available from the European Union website. An extract focusing on EGEE is available from YouTube.


The EGEE project in two minutes: download the video from the second phase of the project (2006).
Webcasts at Super Computing
Bob Jones, EGEE Project Director, broadcasting his message on 'GridCast - Faces & Places Behind the Grid' from the EGEE Stand at Super Computing'06 (SC06), 11-17 November 2006, Florida, USA.
To view more Webcasts at Super Computing '06 (SC06), please click here.