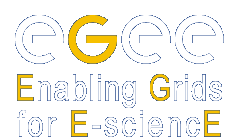 App. Porting Support
Technical aid to grid application developers is critical for broadening the EGEE grid user community. The EGEE Application Porting Support group provides assistance for new and experienced grid users who wish to port applications to the EGEE grid. Members of the team work closely with application owners to understand their requirements and to identify suitable approaches and tools for the porting process. Intensive workshops and personalized training events organized by the team ensure that new applications benefit from the EGEE Grid as soon as possible. Please visit the Grid Application Support Centre to learn more about the application porting group and to apply for assistance.
Success stories on applications that were ported to the EGEE infrastructure with the help of the porting group are available here. Members of the porting group are currently support these applications.