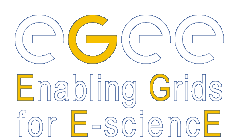 28.04.10 15:12 Age: 2 yrs
Register now for INGRID 2010
Category: Project, home
INSTRUMENTING THE GRID (INGRID2010)
12-14 May, 2010
Poznan, Poland
Registration for INGRID2010 - INSTRUMENTING THE GRID workshop is open now.

Workshop scope:

A number of science, industry and commerce problems which require broad international cooperation may be addressed by using sophisticated equipment and top-level expertise. Therefore, the development and dissemination of techniques and technologies that allow virtualized, remote and shared access to industrial or scientific instruments are essential for the progress of society. The possibility of using scientific or industrial equipment independently of their physical location helps towards equality of opportunity for and unification of communities, and subsequently provides new opportunities for industry, science, and business.

Registration form is available here.

DORII SUMMER SCHOOL
====================

Co-located, the DORII Summer School will take place May 10-11, 2010. Registration is also open now.

More information here.
---