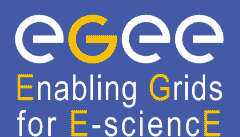 Beneficiaries
The EGEE consortium consists of 42 beneficiaries, both academic and business. All EC co-funded countries have grouped their academic partners on a national level via Joint Research Units or National Grid Initiatives so that the 42 beneficiaries represent a total of more than 120 partners. This has a structuring effect on the Grid communities across the European Research Area and is an important milestone for the planning of a sustainable Grid Infrastructure model. Beneficiaries are organized in regional federations, covering:
Asia Pacific (Australia, Japan, Korea, Taiwan)
Benelux (Belgium, the Netherlands)
Central Europe (Austria, Croatia, Czech Republic, Hungary, Poland, Slovakia, Slovenia)
France
Germany/Switzerland
Italy
Nordic countries (Finland, Sweden, Norway)
South East Europe (Bulgaria, Cyprus, Greece, Israel, Romania, Serbia, Turkey)
South West Europe (Portugal, Spain)
Russia
United Kingdom/Ireland
USA
Collaboration with additional countries in the Asia Pacific region (China, Brunei, Indonesia, Malaysia, Philippines, Singapore, Thailand, Vietnam) and in the Commonwealth of Independent States (Armenia, Ukraine, Uzbekistan) is also foreseen.
List of beneficiaries:
European Organization for Nuclear Research, Switzerland
Universitaet Linz, AT
MTA KFKI Reszecske es Magfizikai Kutatointezet, HU
CESNET Zajmove Sdruzeni Pravnickych Osob, CZ
Ustav Informatiky, Slovenska Akademia Vied, SK
Jozef Stefan Institute, SI
Akademickie Centrum Komputerowe CYFRONET Akademii Gorniczo-Hutniczej im Stanislawa Staszica W, PL
Sveuciliste u Zagrebu Sveucilisni Racunski Centar, HR
Stichting voor Fundamenteel Onderzoek der Materie, Nederland
Vrije Universiteit Brussel, Belgium
Forschungszentrum Karlsruhe Gesellschaft mit Beschraenkter Haftung, Deutshland
SWITCH - Teleinformatikdienste fuer Lehre und Forschung, Switzerland
Centre National de la Recherche Scientifique, France
CGG Veritas Services S.A. France
Istituto Nazionale di Fisica Nucleare, Italy
Trust-IT Services Ltd, Italy
Elsag Datamat S.P.A., Italy
Helsingin Yliopisto, FI
CSC - Tieteellinen Laskenta Oy, FI
UNINETT Sigma AS, NO
Ventenkapsradet, SE
Russian Research Centre Kurchatov Institute, Russia
Greek Research and Technology Network SA, Greece
Institute for Parallel Processing of the Bulgarian Academy of Sciences, Bulgary
University of Cyprus, CY
Tel Aviv University, IL
Institutul National de Cercetare-Dezvoltare in Informatica Bucuresti, RO
Institute of Physics Belgrade, Russia
Turkiye Bilimsel ve Teknolojik Arastirma Kurumu, TR
Laboratorio de Instrumentacao e Fisica Experimental de Particulas, PT
Institut de Fisica da Altas Energias, Spain
The Provost, Fellows and Scholars of the Holy and Undivided Trinity of Queen Elizabeth near Dublin (hereinafter called TCD), IE
The Science and Technology Facilities Council, United Kingdom
Delivery of Advanced Networking Technology to Europe Ltd., United Kingdom
Inter-University Research Institute Corporation, High Energy Accelerator Research Organization, Japan
Academia Sinica, Taiwan
Korea Institute of Science and Technology Information, KR
Chonnam National University, KR
The University of Melbourne, AU
Board of Regents of the University of Wisconsin System, United State
University of North Carolina at Chapel Hill, United State
BT Services, France
Previous EGEE partners