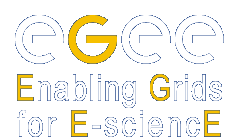 Applications
The Enabling Grids for E-sciencE (EGEE) project began by working with two scientific groups, High Energy Physics (HEP) and Life Sciences, and has since grown to support formally astronomy, astrophysics, computational chemistry, earth sciences, fusion, and computer science. The full user community runs applications from research domains as diverse as multimedia, finance, archaeology, and civil protection. Search the application database through one of the two web interfaces (link1, link2).
Researchers in these areas collaborate through Virtual Organizations (VOs) that allow them to share computing resources, common datasets, and expertise via the EGEE grid infrastructure. End users can join existing VOs or create new VOs tailored to their needs. Those with existing computing resources can also federate them with the EGEE grid infrastructure to facilitate load balancing with other users and groups.
The EGEE project hosts one User Forum event each year. These events bring together people using the grid infrastructure to solve scientific problems, allowing them to share their experience, to showcase their work, and to learn about cutting edge grid technology. The papers and abstracts from the User Forums give a good overview of the EGEE user community:
Those new to grid computing should review these documents to better understand what can be accomplished using grid technology.
Details on participating in EGEE as an end-user, manager of a VO, or as a resource provider can be found elsewhere on this site.