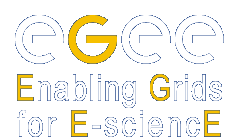 Production Service
The Production Service infrastructure is a large multi-science Grid infrastructure, federating some 260 resource centres world-wide, providing some 92.000 cores and several Petabytes of storage. This infrastructure is used on a daily basis by several thousands of scientists federated in over 200 Virtual Organizations on a daily basis. This is a stable, well-supported infrastructure, running the latest released versions of the gLite middleware.
How to join? In order to join the EGEE Production Service your site has to Register and Get certified. For the Registration please refer to the EGEE Site/ROC Association Process (PDF file). For the Certification please contact your associated Regional Operations Centre (ROC).
Infrastructure services: we operate a set of essential services, such as the information services, resource brokers, data management services, administration of the Virtual Organisations (VOs) and other core services agreed with the VOs, that bind distributed resources into a coherent multi-VO infrastructure.