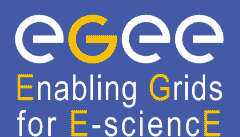 Run a Business Application
The Business Task Force is dedicated to assessing and supporting the set-up of industrial applications on the EGEE infrastructure. A variety of mechanisms have also been put in place to ensure a high level of quality and assurance. Through the Business Task Force, direct links are created with EGEE's technicians in its Grid Operation Activity and gLite middleware engineers for the proper set up of the application.

EGEE's Grid Application Support Centre (GASuC) activity also provides assistance for current and future users and application developers. GASuC helps identify and apply best patterns, practices, tools and methods in order to get your code running on the EGEE Grid as soon as possible. A variety of training material are made available as well as the opportunity to attend Training Events to get hands-on training from EGEE or certified trainers.

Once the application is up and running the Business Task Force will be available for providing support as well as the Global Grid User Support (GGUS) ticketing system for submitting bugs. One other mechanism of support is through EGEE's Business Associate Programme, where one commercial enterprise provides gLite support and handles industrial requirements for those running or wishing to run an business application.
For more detailed information or to run an application please contact Gabriel Zaquine and Trust-IT