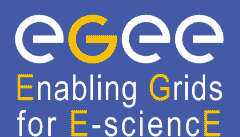 EGEE Conference Business Tracks
LAST: EGEE'09 - EGEE-III and BEinGRID show how Grid and Cloud services have widespread impact on business
Organised by the Business Forum, Business Tracks are designed to offer expertise insight into current and future developments in distributed computing. The tracks focus on both specific commercial sectors and broader IT issues. The Business Tracks highlight success stories on the adoption of grids and open source technologies, the latest developments in distributed computing in the commercial sector, and the achievements & on-going work of EGEE's Business Associate Programme.
An interactive panel discussion concludes these 2-day events aimed at identifying best practices, evaluating top-level challenges and defining long-term plans for EGEEs business programme.
The Business Tracks connect grid experts, end users and IT innovators to explore new opportunities for the adoption of distributed computing by engaging with EGEE through set processes designed to promote industrial involvement and collaborative developments.
Snapshot of EGEE'09 Business Track, Barcelona, Spain - 23 September 2009
EGEE's Business Forum and the BEinGRID project (Business Experiments in Grid) teamed up at EGEE09 in late September for a one-day workshop; the two largest EC-funded ICT projects focused on widespread distributed computing. The three interactive sessions showcased achievements from a business and technology transfer perspective and defined the next steps as we move towards new frontiers in the arena of clouds and grids.
The day began with an overall view of EGEE's business activities and the industry uptake efforts of BEinGRID, presented by Steve Newhouse, CERN - EGEE-III's technical director, and Santi Ristol, Atos Origin – Project Coordinator of BEinGRID.
EGEE's Business Forum continues with the backdrop of the transition to a sustainable European Grid infrastructure with business and technology transfer firmly in mind. BEinGRID shares this goal of business adoption of distributed computing, focusing on SME end-user uptake through several vertical business pilots across industrial sectors.
IT-tude.com was also presented; the website is dedicated to this widespread adoption of IT solutions, as well, representing the broader scope of business and research technology offerings. What began as a platform for BEinGRID results has evolved into something much greater, encompassing a central hub for information on Cloud, Virtualization, Software-as-a-Service (SaaS), Grid and other distributed computing solutions. The site is continually expanding with use-cases to relate to real business needs, neutral and dependable analysis, technology expertise to fulfill the IT side of operations, and emerging technologies and services to highlight future research.
The second session centered on clouds and service level agreement (SLA) management with examples of industrial collaboration for the convergence of grids and clouds and an in-depth analysis of these technologies in terms of business findings presented in the BEinGRID published book due for release this autumn. Also featured was a look at StratusLab, a highly relative research initiative aimed at exploring the integration of cloud technologies and services - especially virtualization - into existing Grid Infrastructures.
As the day concluded, the third and final session looked at technology transfer with a series of case studies on how scientific research has been commercialized in relation to clouds and grids. Primary examples were the business benefits of GRIA middleware, as well as a look into software licensing options with MATLAB. Practical case studies were also examined within the healthcares sectors, showing that distributed computing technologies and services are currently evolving in a variety of environments.
EGEE'09 Conference website: http://egee09.eu-egee.org
More information regarding the workshop - including full presentation abstracts, slides, and speaker bios - can be found in the online summaries at here.
Check out past Business Track Programmes (presentations available):