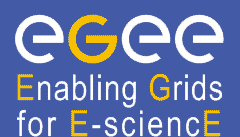 Welcome
The EGEE project officially ended on April 30 2010. Please download our project summary document here.
The Enabling Grids for E-sciencE project is no longer active. The distributed computing infrastructure built and nurtured by the projects DataGrid (2002-2004), EGEE-I, -II and -III (2004-2010) is now supported by the European Grid Infrastructure. This long-term organisation coordinates National Grid Initiatives, which form the country-wide building blocks of the pan-European Grid. Transitioning the care of the infrastructure from EGEE to EGI is part of the process for ensuring a vibrant and sustained European research community.

This website is no longer maintained. Information may be out of date. The current EGI website can be found at http://www.egi.eu.

LATEST NEWS
11.05.10

---
03.05.10

---
28.04.10

---
UPCOMING EVENTS
14-17 September 2010
The EGI Technical Forum will run from 14th to 17th September 2010 and will be hosted by EGI.eu and the Dutch NGI - the BiG Grid project. The major theme will be establishing collaborations between the new and the current European Distributed Computing Infrastructure projects.
For more information on the conference, please visit: http://www.egi.eu/EGITF2010.