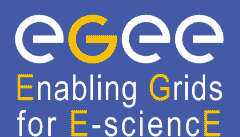 Business Forum Members
Becoming a Business Forum Member offers a wide range of benefits, which include:
Engaging with a large community of business experts & players from a spectrum of sectors at Business Forum events.
Learning about the benefits of Grid technology through User Case Studies and expert-led presentations.
Understanding how top-level IT challenges are being tackled through Grid.
Leveraging technical solutions surrounding Grid adoption.
Receiving the Business Forum Newsletters featuring success stories, developments and new opportunities through the activities of Business Associates & the Business Task Force.
Accessing reports & White Papers
Who is on the Business Forum?
The Business Forum comprises of a healthy mixture between Grid experts, business players from private enterprises and academic scientists who have a particular interest in Grid and Business or who are specialising the field.
Click here for current Business Forum Members list.